Driving & Ducking around Ireland Paddy's Adventure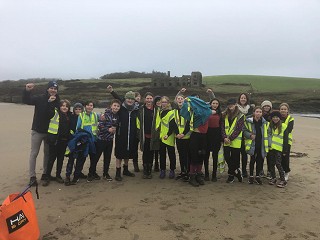 https://www.facebook.com/paddysswimaroundireland/videos/872201687158242
GO PADDY - Paddy Conaghan (82) was welcomed with open arms by locals as he took to the water at Howe Strand. The children really got behind Paddy this morning as he visited our beloved Howe strand. They wrote on the sand and took the video and roared encouragment to him as he took the plunge in our local beach, as he makes his way around every beach in Ireland. Paddy hails from Aranmore off Donegal and he is slowly making his way around Ireland.
Over recent weeks, Paddy has been ducking and driving around Ireland with his crew after setting himself a challenge to swim every beach all in aid of Donegal-based mental health charity Gemma's Legacy of Hope.
The Arranmore man has appeared on national television and draws big crowds wherever he goes.
Paddy established the initiative as a fundraiser for Gemma's Legacy of Hope – a counselling service established in memory of his friend's wife Gemma Boyle who died in February 2020. Through the first 'Driving and Ducking' adventure, which he completed in late 2021 and early 2022 and 2023, he raised over €112,000 for the cause.
Well done Paddy from all of the children, staff, parents and community of Gurraneasig,Kilbrittain, Co.Cork