April & May Senior Room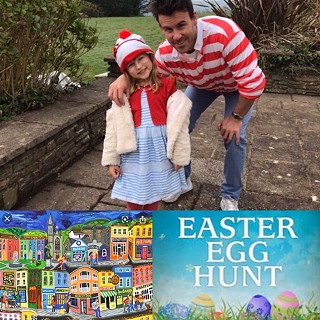 Dear all,
I hope you had a very happy Easter (albeit a very different one than normal) and had a lot of fun. I did a "Where's Wally" Virtual Easter hunt around Clonakilty. As ye all know I had the outfit already! Here is a picture of myself and my Niece Lauren – A lot of people from the town got involved and it felt like a real Easter egg hunt(well sort of).
Poetry day is Thursday the 30th of April 2020..Poetry and music elevate the heart and soul. It can take you to a magical place..Read and re-read and you will be rewarded. Did you hear this lady wrote a poem about her poor sister who passed away due to the Corona virus? paste link into google https://www.irishtimes.com/news/social-affairs/my-sister-is-not-a-statistic-coronavirus-victim-from-mayo-remembered-in-a-poem-1.4228879 Very sad..I know but so beautiful too. All in a poem, the ultimate tribute to her sister.
Shine your light by Paula Meehan https://www.rte.ie/culture/2020/0407/1129101-shineyourlight-spoken-word-from-paula-meehan-easter-2020/ We lit a candle Saturday night, like lots of you in appreciation for all the amazing, selfless work the health service are doing and for all the people who are sick, those who have lost their lives and the loved ones who remain, reminding us that love and hope are always with us.
Try a poem a day…revising poems we did already, or if there is any new poem you come across you might send me a picture. Could you learn one of two (off my heart) and hopefully dramatise some of them like; The Sea (by E.A Adams)……The Sparkling SEAAAA! I'll hear them all soon, hopefully. I have attached a list of 10 very special poems that we have done over the past 2 years.
TG 4 https://www.cula4.com/en/shows/cula4-ar-scoil/ is starting Gaeilge lessons at 10am and maybe this would be very worthwhile along with reading stories from Beal Beo 5 and the hub at 11am on RTE
Thinking of you all and indeed missing your company. Can't wait to see you all and hear your stories.
2 Beatles songs for you: https://www.youtube.com/watch?v=xUNqsfFUwhY Here comes the sun – little darling it's been a LONG, cold lonely winter!! https://www.youtube.com/watch?v=2Q_ZzBGPdqE Help me if you can I'm feeling down and I do appreciate you being around.. Don't forget In my life…. and the others from the play. I do like other bands BTW!! https://www.youtube.com/watch?v=5GAG_y6WJ_8 let me tell you about the cherry trees..Every April in our town https://www.youtube.com/watch?v=SPGvej4EkwwIs this the way to GURRANEASIG (I had to get rid of the video I sent via email as I saw a certain infamous person in it)
(April 20th – May 4th) – Home work from the books you have. all books are online now and the codes from Edco (Beal Beo 5)and Cj Fallon(Maths) etc are all on their website to access, if you can't find the books)
1.Maths
Mental Maths Week 29 and 30 (Do only one day at a time /I'll give answers next Monday)

Mathemagic – 4th class – chapter 22 (symmetry) Chapter 23 Solve puzzle, Chapter 26 & 27 do as much as possible 5th class Chapter 29 &chapter 30(The circle) and chapter 31(Do every third question 1, 4, 7, 11 etc) 6th class chapter 29,Chapter 30 (The Circle) and chapter 31(Do every third question 1, 4, 7, 11 etc)

English Starlight 5 Starlight - Read 14a The bad thing Try and complete exercises - P161 do A and C and do P162 D, E (a pronouns we did already)F and G (NB) Try and do an essay on The Lost World of Dinosaurs but plan it first by doing the exactly what the book says!! Send me on the essay next week…if you dare
Spellbound Wk 27 & 28 (one per week) Free writing – A poem/song about Covid 19 or about Easter 2020 Gaeilge - https://www.cula4.com/en/shows/cula4-ar-scoil/ read reread stories already done in Beal Beo 5 plz
"Ní neart go cur le chéile."
C.Murray