Junior Room Activities for March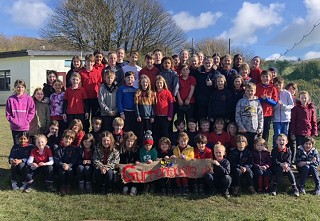 Dear Parents and Children,
I hope you are keeping well and getting some time out in the fresh air everyday. On Thursday the children were given work to keep them busy for the next two weeks. Below I have added some more activities for the children. Pick and choose from the list and most of all enjoy them.
Some ideas that may help the children to keep active:
RTE Junior 10 at 10 -write this into google and you can choose an episode
Go Noodle https://app.gonoodle.com/
Hang Clothes on the line - Develops Gross Motor Skills
PE with Joe will be live on youtube every morning
Dig a hole with a shovel - Develops Gross Motor Skills
Kick Challenge:Use rolled up balls of newspaper, the children must try to kick the paper balls into a cardboard box lying on its side.
Ball Plus. Children practice addition while passing, rolling or kicking a ball. e.g. child one says '10' child two says 'plus' child three says '4' and child four says the answer.
Play "find and tag it" This is a versatile game that can be used to review many different skills. Just tell your learners to find something and tag it. For example, "Find and tag something blue." Or "Find and tag something that starts S.
Activities in the house that would be beneficial for children:
Sort toys by size
Make up a quiz
Pair Socks
Roll 2 Dice and add the numbers together
Keep a Daily Diary (Senior Infants and First Class)
Investigate! Can toys float or do they sink?
Practice counting groups of objects - Juniors up to 10 , Senior up to 20
First class counting in 2s, 5s, 10s
Help to make dinner - Write the procedure for preparing/making one part of the dinner
Watch TG4 on the Television
Go on a shape hunt both 2D shapes and 3D shapes
Go Colouring - 3 Star Colouring
Play shop using real money up to 5c for Junior infants and up 10c/20c Senior Infants
Cut something out
Do a jigsaw
Use small legos to develop fine motor skills and imagination.
Here are some useful websites for the children in the Junior Room, I will continue to add to the list.
Children in first class will already be familiar with this app. Teach Your Monster to Read is a fun activity that helps infants work on everything from initial sounds, CVC words, blends and digraphs all the way to full words and sentences. The Web platform is free for teachers and students (the App costs, but is not necessary).https://www.teachyourmonstertoread.com/

Over the Moon is the programme the children in the Junior Room are using and are familiar with. I recommend using this resource. If you do not have a printer children can copy questions on to a piece of paper and then answer. https://www.gillexplore.ie/

Twinkl are offering all parents and teachers a One Month FREE Ultimate Membership to Twinkl.ie. This will allow parents and teachers unlimited access to every single resource for every single curriculum subject from junior infants to sixth class www.twinkl.ie/offer

Epic! is an online library which offers over 35000 resources including "Read to Me" books, audiobooks, student tracking, reading level linkage with Accelerated Reader and other reading levelling schemes. It also offers high interest texts such as National Geographic Kids and Guinness Book of Records. It is suitable for children from ages 4- 12.https://www.pdst.ie/DistanceLearning/SourcesofInformation#epic

The World Book is a resource offered by the PDST. It's like a virtual encyclopedia except a lot more interactive. https://www.worldbookonline.com/wb/products?ed=all&gr=Welcome%21

Oxford Owl has an ebook library with over 250 books in it and offers free access to teachers and parents once you create an account at www.oxfordowl.co.uk They also have some vocabulary and comprehension activities for most of the books. www.oxfordowl.co.uk

Writing Legends is a comprehensive writing program, containing hundreds of activities for students in grades 3 to 6. https://www.writinglegends.com/

www.sorchaj.com- This site covers phonics, dolch, Jolly Phonics including tricky word lists and practice reading sentences following the Spellbound order of words and more.

Gaeilge- Léitheoireacht: Séideán Sí (gach leibhéal) https://www.seideansi.ie/aiseanna-eile.php

Teanga ó Bhéal: Scéal an Lae - TG4 Short stories i nGaeilge read aloud online. https://www.youtube.com/results?search_query=Sc%C3%A9al+an+lae Link to the website

Teanga ó Bhéal: Soundcloud - An Gúm Soundcloud - Irish language stories read aloud online/ scéalta i nGaeilge ón nGúm https://soundcloud.com/search?q=An%20G%C3%BAm
The most important thing is for children to read. Junior infants can read short words and their reading will be improved by practicing tricky words and sounds. Help your child to blend the words. All children benefit from being read to and reading to others.
These activities will hopefully keep the children busy.
Take care and stay safe,
Ms Kennelly